FIRST POST DAY 1
30 DAY SQUAT CHALLENGE
Squats are considered a foundational exercise. Nearly every total-body includes at least some variety or modification of a basic squat. There are numerous and significant benefits of squats; therefore, this is the best exercise to begin with for our first 30 day challenge.
To begin our challenge, we have included our daily challenge template for you to follow along with us. Do not let the numbers intimidate you as these can be adjusted based on your fitness level. The squats do not have to be performed all at one time, we recommend breaking the squats up throughout the day in 10-20 count intervals.
High Intensity (individual exercises regularly)- Follow the template
Moderate intensity (individual works out occasionally)- Deduct 25 squats from each day; however, make sure to perform 20 squats on the days there are only 20 squats to complete
Low intensity (beginner to exercise, does not exercise regularly)- Deduct 35 squats from each day, on the days where 20 squats are due, take that day as a rest day
Please check with one of your Pearl Clinic providers if you are uncertain whether you are healthy enough to participate.
Good Luck!!! Stay tuned to our Facebook Page, there will be a drawing at the end of the challenge for those who complete the 30 DAY SQUAT CHALLENGE with us-
SECOND POST DAY 1 (squat form jpg goes with this post)
PROPER SQUAT POSITION
Sacrificing form can lead to injury and will make the move ineffective. Proper form is KEY to mastering this exercise!
Stand with your feet shoulder-width apart and your toes pointed forward.
Keep your chest up and make sure not to tilt your head down. Pull your navel in toward your spine to engage your core.
Bend at the hips and knees while keeping your heels and toes on the floor.
Slowly sit back into a squat position with your chest up, your shoulders back and abs in.
Straighten your legs by pressing into your heels to stand back up. Squeeze your glutes at the top, tilting your pelvis forward.
INDIVIDUALS WITH KNEE INJURIES, KNEE PAIN OR OTHER JOINT ISSUES, SEE THE MODIFIED SQUAT POST AND CHECK WITH YOUR PCP/ORTHOPEDIST PRIOR TO PERFORMING THIS EXERCISE
Here is a link for more information
How To Do Squats | How To Do a Proper Squat (runnersworld.com)
DAY 1 POST 3 (Use squats 4 jpg with this post)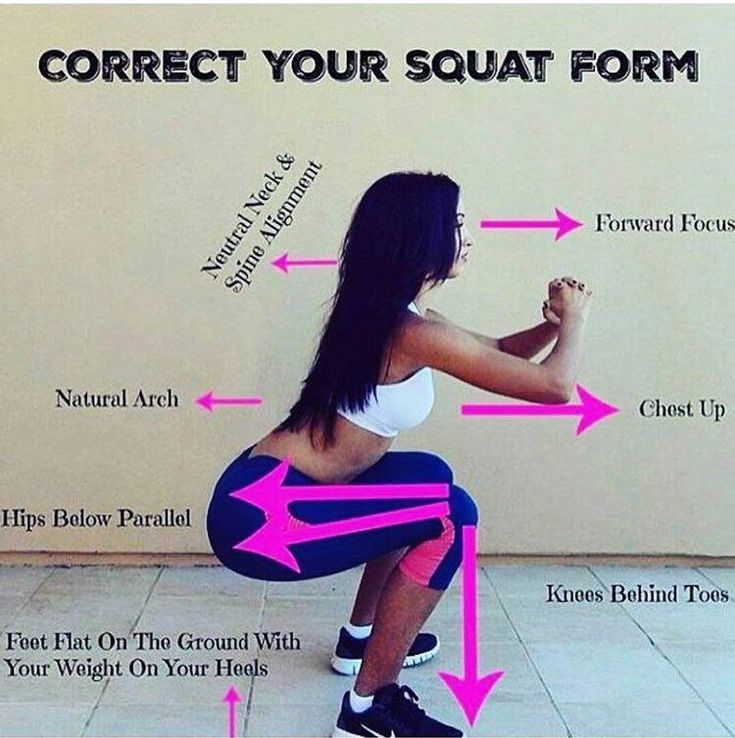 Reduce range of motion- Use a chair to decrease the depth of the squat, reduce the depth of the squat to a half squat or quarter squat
Correct your positioning- make sure you are using proper form
Most important-if you are experiencing pain stop the exercise.